Of all the beaches in Australia, there is nothing more iconic than Bondi Beach. From every corner of the globe people have heard of Bondi Beach and have a dream of one day visiting this amazing part of Sydney's coastline.
History of the Bondi Icebergs

Located on the southern end of Bondi Beach is the famous Bondi Icebergs. One of the best looking ocean baths in Sydney, and definitely one of the best to photograph. The design, location and the angles you can shoot of this pool are a definite favourite amongst local Sydney photographers. The Bondi Icebergs swimming club dates back to 1929. It was formed by a group of local life savers who wanted to keep fit during during the winter months.

The elected office bearers created a constitution for the club, and one of the rules was that to maintain membership swimmers had to compete on 3 Sundays a month out of 4 for a period of 5 years. This rule is known as the "15B rule" and it exists to this day.

It's amazing that the Bondi Icebergs started as a tin shed, where in 1960 it became licensed and the members moved into much nicer premises with a bar and poker machines. A further renovation happened in 1970 and club now operated on 2 floors.

In 1995 female members were admitted, and in 2002 after further renovations the Club opened their new premises and the facility is stunning. I highly recommend visiting the Icebergs for lunch when you go to Bondi, it's an experience you will always remember.

It's incredible to note that the Bondi Icebergs is the only licensed Winter Swimming Club in the world.
Information

The Bondi Icebergs accomodate both adults and kids as they feature both a larger lap pool and a smaller kid's pool. Qualified lifeguards are on patrol during opening hours all year round.

There is nothing more magical than sunrise and this is definitely the best time to photograph the Icebergs. I have been lucky enough to capture some magnificent light at sunrise from this location. The best time is during the summer months as the sun has moved further south and there is a direct view of it from this angle which is facing north above the baths where you can stand and take a photograph.

During the winter months the sun moves further north and then the North Bondi headland blocks the sun as it rises. Of course you can capture some great shots no matter if the sun is blocked or not, but there is something special when the sun rises directly ahead over the ocean and lights up the Icebergs bringing them to life.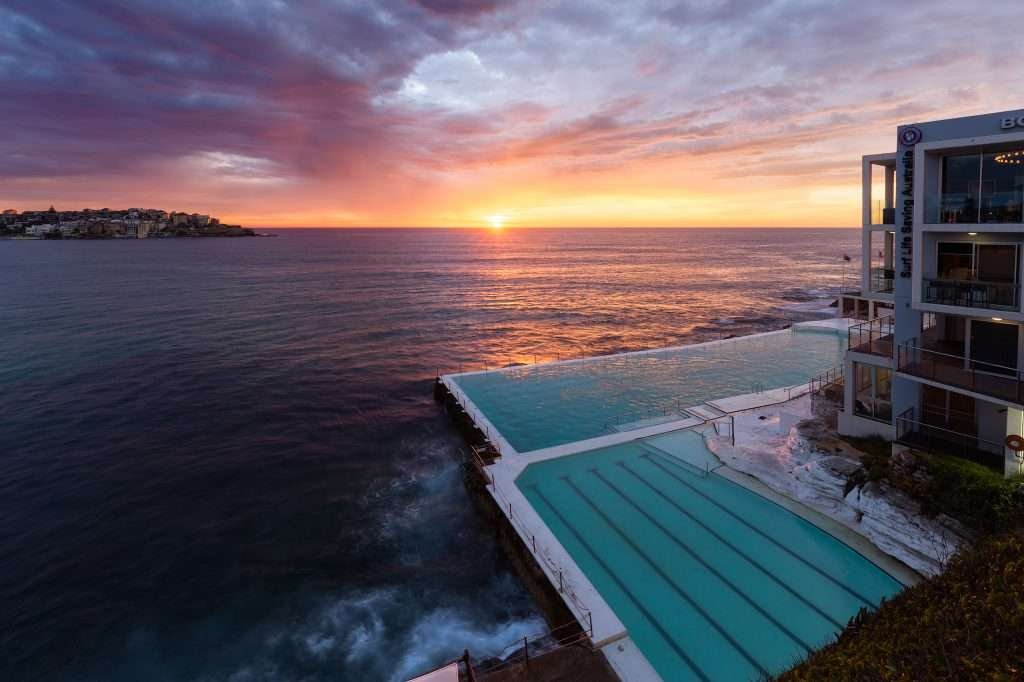 I just love summer, it's the best time of year! When I took the photograph above there were lots of people out and about, which is typical of the summer months in Sydney, even at sunrise. It actually felt like the middle of the day. People were exercising, going on walks and getting ready to head into the Icebergs for a swim. When this sunrise above happened, everyone stopped, and just admired the beauty they were witnessing. I wasn't the only photographer there either. It's an incredibly popular spot to photograph. So if you plan on shooting it, particularly in the summer months, get here early to get a parking spot as well as claim your spot to shoot, especially if there is any hint that sunrise is going to explode in colour.
Experiencing an Australian summer is something truly magical. Especially on a superb cloudless hot day. People flock to the coastline and to the beaches. Bondi Beach is one of those amazing places to visit on such a day where the atmosphere is so chilled and relaxing. The beach is pumping with people from all walks of life and it comes alive. It has such character and you just know that you are somewhere very special. People love coming to the Icebergs and swimming in the baths in the summer months. This shot I took is a classic quinessential shot of the baths during the hot summer months. Doesn't it make you just wish for summer all year round!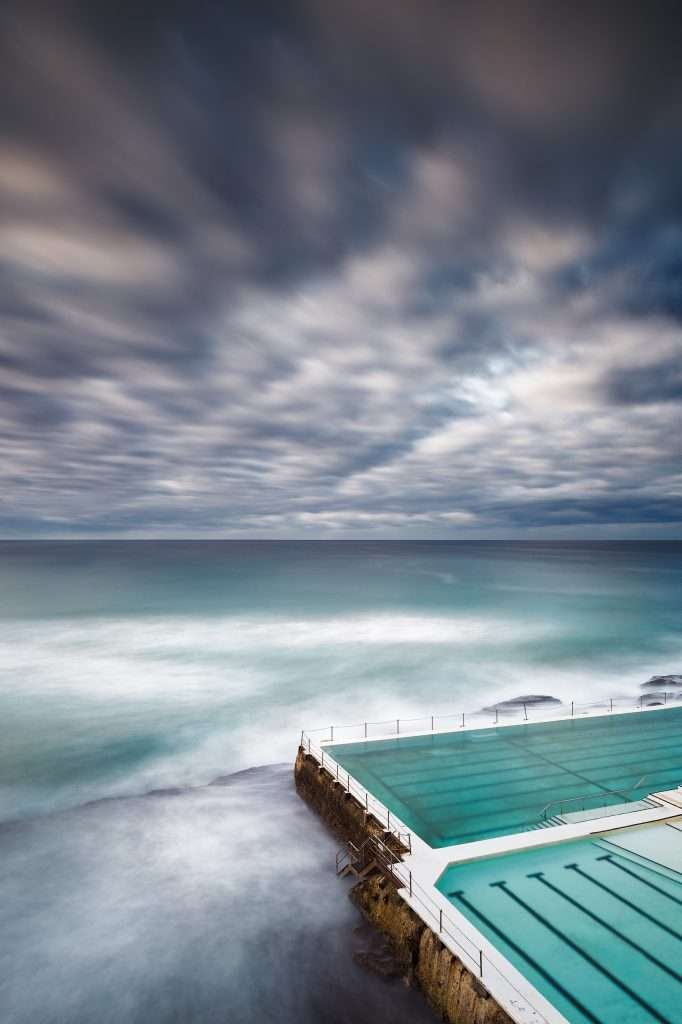 If you like taking creative photos, the icebergs is the perfect spot to do so. The photo above was taken one morning after sunrise, I thought it was going to be a beautiful sunrise bursting with colour, but sometimes you can't win them all. So instead of packing up and walking away disappointed, I saw the opportunity to take a creative shot, especially when the clouds were packed with texture. I decided to shoot a long exposure. This one was taken at a 90 second exposure which showed the movement of the cloud and smoothed out the water. It allowed the beautiful baths to stand out and display its beauty. So whenever conditions don't turn out the way you want them to, don't just walk away, look for other opportunities and angles to shoot and you too can walk away with a unique image.
POOL ADMISSION PRICES:
Adult $8
Child (12 years & under) $5.50
Seniors Card Holders $5.50
Family (2 Adults & up to 3 Children): $24
OPENING HOURS:
Monday to Wednesday 6.00am – 6.30pm
Thursday pool closed for cleaning*
Friday 6.00am – 6.30pm
Saturday 6.30am – 6.30pm
Sunday 6.30am – 6.30pm
*On Thursday if tides and weather permit staff will endeavour to have pool opened post cleaning. Please check with pool staff for confirmation
Let me know in the comments below what your favourite things are about Bondi Beach and the Bondi Icebergs!

For more comprehensive information visit the Bondi Icebergs website by clicking here.